Living with Acne
CARING FOR YOUR SKIN
Cleanse your skin gently. Do not scrub – this can aggravate acne.1
Wash your skin twice a day with a mild cleanser and water. More frequent washing will not improve your acne, and it might irritate your skin and make the acne worse.2
Don't squeeze or pick at your pimples. Squeezing forces infected material deeper into the skin, making the inflammation worse and possibly leading to scarring.1,2
Shave carefully and lightly.1
Use oil-free makeup (only makeup that states that it is "non-comedogenic").1,2
Wash your makeup brushes with antimicrobial soap.3
Shampoo every day if you have oily hair.1
Wash your pillowcase and sheets frequently so that they are not depositing oil and dirt back onto your clean skin.3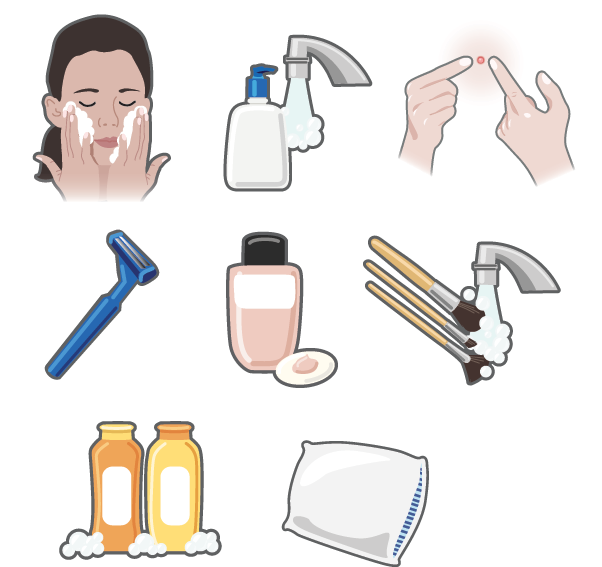 ARE THE SYMPTOMS PERMANENT?
Acne typically presents during puberty because of the surge in sex hormones during that time. It can last for 5–10 years, and sometimes continues on into adulthood.3
Acne can occur for the first time in adulthood, and this is more likely to affect females than males, for several reasons. Examples include changes in hormones (e.g., related to the menstrual cycle, pregnancy, and menopause), the cessation of birth control pill use, and the use of greasy makeup, which clogs pores.2,3
PSYCHOLOGICAL EFFECT OF ACNE
In addition to the physical effects of acne, this common condition can have psychological effects on you.
Regardless of how mild or severe your acne might be, it may get you down or make you feel depressed. You're not alone in feeling this way – many people who have acne suffer from low self-esteem or depression.3
Sometimes feelings of decreased self-esteem, embarrassment, and poor body image, for example, can lead to social withdrawal.3
Even if your acne is not severe, if it's getting you down or preventing you from being as social as you would like, this is reason enough to get treatment. Acne does not have to be severe to warrant treatment.
ARE THERE TREATMENTS FOR ACNE?
Yes, there are several treatments for acne. These vary depending on the type and severity of your acne.
Treating acne early on can help to keep it from getting worse and/or from causing scarring.3
SIDE EFFECTS OF ACNE MEDICATIONS
There are several side effects associated with acne medications, ranging from very mild to quite serious. They vary depending on the medication used and on your personal reaction to it. See "Are medications for acne safe?" for more details.
WHEN SHOULD I SEE A DOCTOR ABOUT MY ACNE?
If you have tried over-the-counter medications, and they have not helped to your satisfaction, make an appointment to see your doctor. Prescription medications are often more effective.
If your acne is quite bad, see your doctor. Acne can result in scarring, and early treatment is the best preventative step.1
IS IT POSSIBLE TO GET RID OF ACNE SCARS?
Scarring can be minimized. Ask your dermatologist about the best approach for you.
Tretinoin creams and gels can be used to treat superficial scars.3
For deeper scars, treatment options include laser abrasion, dermabrasion, injectable fillers, and chemical peels.2,3
The best way to prevent scarring is to treat acne early.1
REFERENCES
US National Institute of Arthritis and Musculoskeletal and Skin Diseases. What is acne? Bethesda (MD): The Institute, 2010; http://www.niams.nih.gov/health_info/acne/acne_ff.pdf. Accessed January 18, 2013.
SkinCarePhysicians.com. Frequently asked questions about acne. Schaumburg (IL): American Academy of Dermatology, 2011; http://www.skincarephysicians.com/acnenet/faq.html. Accessed January 21, 2013.
Canadian Dermatology Association. Acne. Ottawa (ON): The Association, n.d.; http://www.dermatology.ca/skin-hair-nails/skin/acne/. Accessed January 23, 2013.