JCCC 2017 Issue 4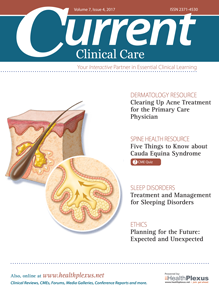 Table of Contents

MD, MSc, FRCPC, FACP, FRCPEdin
It's understandable that physicians and nurses are primarily concerned with the medical conditions they're responsible for treating.

MD, FRCP(C)
Acne vulgaris is a common skin condition encountered in family practice and can cause significant distress during adolescence.

MDCM, FRCS(C), FAAOS
Cauda Equina Syndrome (CES) is a rare progressive syndrome of pain and neurological deficits below the waist caused by massive central lumbar disc prolapse.