Low Back Pain: It's Time for a Different Approach

to question the efficacy of a treatment applied too late.
The fourth issue is the fragmented and episodic nature of care.
22
Patients with back pain receive conflicting information and advice from medical specialists, allied health professionals, family members and friends, and, of course, the Internet.
10,19
Optimal patient management is best delivered in a shared-care model with consistent messaging by primary care, specialist and rehabilitation professionals. Patients select what resonates with them or do nothing in the face of so many contradictory opinions. Many continue to search for something that is going to "fix" their back pain.
Recognizing the pitfalls in our current medical approach to LBP, we propose a paradigm shift to a more practical, stratified approach that changes the messaging and management of LBP to reflect what LBP is—a chronic human condition.
4,11,12
We must be both proactive and preventative. The first step is convincing the patient that LBP is manageable albeit likely to recur. The goal is control, not cure, and control is not only possible, it is readily achievable. It consists of phases of symptomatic treatment while engaging the patient in self-management maintenance and preventative strategies. Most LPB arises from minor mechanical derangements that produce an identifiable compilation of symptoms suggesting a probable anatomical source and, more importantly, an initial patient-specific management strategy.
11
Appropriate expectations, a primary focus on the return of function and as well as pain reduction, and long-term, self-directed control should reduce both the chronicity and health care utilization.
4,12,23-25
Individuals without a specific mechanical pattern, who fail to respond or become less specific over time, or who have a concurrent non-spinal complaint require further attention. Up to 30% of patients with LBP have associated yellow flag psychosocial issues.
12,20,26
Less commonly, there may be a red flag for non-mechanical causes such as inflammatory disease, infection, or tumour.
27,28,29
Reliably screening for these unusual presentations is possible by through a precise, back-specific history and physical examination. The next three articles provide a practical approach that will enable you to confidently assess and initiate patient-specific management within the continuum of LBP.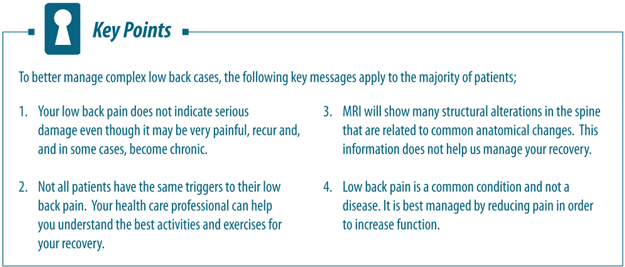 References
Hoy DG, Bain C, Williams G, et al. A systematic review of the global prevalence of low back pain. Arthritis Rheum 2012;64(6):2028–37. doi: 10.1002/art.34347.
Power JD, Perruccio AV, Desmeules M, et al. Ambulatory physician care for musculoskeletal disorders in Canada. J Rheumatol 2006;33:1.
Martin BI, Deyo RA, Mirza SK, et al. Expenditures and health status among adults with back and neck problems. JAMA 2008;299(6):656–64.
Srinivas SV, Deyo RA, Berger ZD. Application of "less is more" to low back pain [review]. Arch Intern Med 2012;172(13):1016–20.
Koes BW, van Tulder M, Lin CW, et al. An updated overview of clinical guidelines for the management of non-specific low back pain in primary care. Eur Spine J 2010;19:2075–94.
Walker BF, Muller R, Grant WD. Low back pain in Australian adults. Health provider utilization and care seeking. J Manipulative Physiol Ther 2004;27(5):327–35.
Dagenais S, Caro J, Haldeman S. A systematic review of low back pain cost of illness studies in the United States and internationally. Spine J 2008;8:8–20.
Itz CJ, Geurts JW, van Kleef M, Nelemans P. Clinical course of non-specific low back pain: a systematic review of prospective cohort studies set in primary care. Eur J Pain 2012 May 28. Epub ahead of print.
Donelson R, McIntosh G, Hall H. Is it time to rethink the typical course of low back pain? PM R 2012;4(6):394–401.
Fourney DR, Andersson G, Arnold PM, et al. Chronic low back pain: a heterogeneous condition with challenges for an evidence-based approach. Spine (Phila Pa 1976) 2011;36(21 Suppl):S1–9.
Hall H, McIntosh G, Boyle C. Effectiveness of a low back pain classification system. Spine J 2009;9(8):648–57.
Hill JC, Whitehurst DG, Lewis M, et al. Comparison of stratified primary care management for low back pain with current best practice (STarT Back): a randomised controlled trial. Lancet 2011;378(9802):1560–71.
Furlan AD, Yazdi F, Tsertsvadze A, et al. A systematic review and meta-analysis of efficacy, cost-effectiveness, and safety of selected complementary and alternative medicine for neck and low-back pain. Evid Based Complement Alternat Med 2012;2012:953139. Epub 2011 Nov 24.
Chou R, Deyo RA, Jarvik JG. Appropriate use of lumbar imaging for evaluation of low back pain [review]. Radiol Clin North Am 2012;50(4):569–85.
Chou R, Qaseem A, Owens DK, Shekelle P; Clinical Guidelines Committee of the American College of Physicians. Diagnostic imaging for low back pain: advice for high-value health care from the American College of Physicians. Ann Intern Med 2011;154(3):181–9. Erratum in: Ann Intern Med 2012;156(1 Pt 1):71.
You JJ, Purdy I, Rothwell DM, et al. Indications for and results of outpatient computed tomography and magnetic resonance imaging in Ontario. Can Assoc Radiol J 2008;59(3):135–43.
You JJ, Levinson W, Laupacis A. Attitudes of family physicians, specialists, and radiologists about the use of computed tomography and magnetic resonance imaging in Ontario. Healthc Pol 2009;15:54–65.
You JJ, Bederman SS, Symons S, et al. Patterns of care after magnetic resonance imaging of the spine in primary care. Spine (Phila Pa 1976) 2012 May 30. Epub ahead of print.
Scott NA, Moga C, Harstall C. Managing low back pain in the primary care setting: the know-do gap. Pain Res Manag 2010;15(6):392–400.
Chou R, Shekelle P. Will this patient develop persistent disabling low back pain? JAMA 2010;303(13):1295–302.
Henschke N, Ostelo RW, van Tulder MW, et al. Behavioural treatment for chronic low-back pain. Cochrane Database Syst Rev 2010;(7):CD002014.
Foster NE, Hartvigsen J, Croft PR. Taking responsibility for the early assessment and treatment of patients with musculoskeletal pain: a review and critical analysis. Arthritis Res Ther 2012;14(1):205.
Whitehurst DG, Bryan S, Lewis M, et al. Exploring the cost-utility of stratified primary care management for low back pain compared with current best practice within risk-defined subgroups. Ann Rheum Dis 2012;71(11):1796–802.
Lambeek LC, van Mechelen W, Knol DL, et al. Randomised controlled trial of integrated care to reduce disability from chronic low back pain in working and private life. BMJ 2010;340:c1035. doi: 10.1136/bmj.c1035.
Lambeek LC, Bosmans JE, Van Royen BJ, et al. Effect of integrated care for sick listed patients with chronic low back pain: economic evaluation alongside a randomised controlled trial. BMJ 2010;341:c6414.
Toward Optimized Practice. Alberta primary care low back pain guideline: updated and revised November 2011. Edmonton (AB): Toward Optimized Practice, 2011; http://www.topalbertadoctors.org/cpgs.php?sid=63&cpg_cats=85. Accessed November 9, 2012.
Henschke N, Maher CG, Refshauge KM. Prevalence of and screening for serious spinal pathology in patients presenting to primary care settings with acute low back pain. Arthritis Rheum 2009;60(10):3072–80.
Powell G, and the Peterborough Back Rules Working Group. The Peterborough Back Rules chart template. September 1997; http://www.iwh.on.ca/pocket-red-yellow-flag-cards. Accessed November 9, 2012.
Deyo RA, Weinstein JN. Low back pain [review]. N Engl J Med 2001;344(5):363–70.