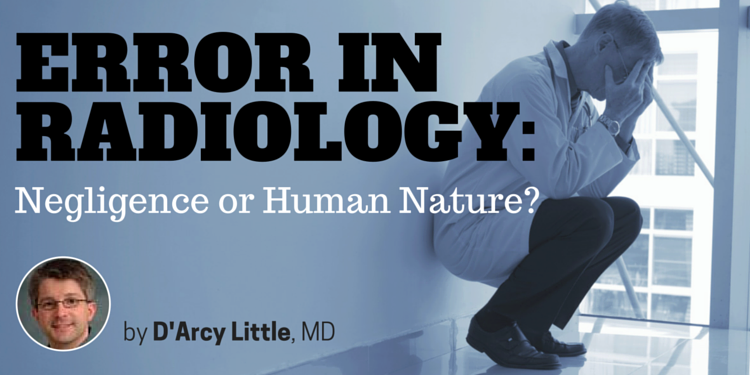 Spurred on by the way that radiology error is reported in the press, the public perception is that all radiology "tests" should be perfect. Radiology, after all, is black and white—right? A review of the medical literature, however, makes it clear that radiology, like any other human endeavour, and all other areas of medicine, is prone to error. In fact, it has been estimated that the daily error rate in a radiology department is approximately three to five percent,1 although there is a significant spectrum of error in these statistics from the trivial to the serious.
A recent study from New Zealand of the most common types of error in radiology divided the results into two broad categories: perceptual and interpretive.2 In perceptual error, the radiologist does not see a particular abnormality. In cognitive error, he sees the abnormality but does not recognize its significance. In this study 80 % of errors were perceptual and 20% were interpretive.
Most errors are made interpreting computed tomography (CT) scans and x-rays. The cause of error in CT scans is likely related to the size and complexity of these studies. Each scan, depending on the type, may have from 100 to more than 1000 images. On a given day, if I read 40 CT scans, I may be reviewing up to 40, 000 separate images! In fact, a very recent study concluded that today's radiologist has to review 16 cross-sectional images every minute, which works out to an image every three to four seconds in an 8-hour day, compared to just three images per minute in 1999 due to increasing imaging volumes.3 The room for error is therefore potentially enormous. It turns out that overall, the most common radiologic errors in this study were made interpreting x-rays. Half of the errors interpreting x-rays were made while looking at chest x-rays, and almost half of those errors involved the missing of small lung nodules. While not all lung nodules are significant, there is a possibility that some lung nodules could represent cancer. Chest x-rays are particularly prone to error because a large amount of complex three dimensional anatomy in the chest is superimposed on one or two composite two dimensional images.
The New Zealand study went on to say that the potential reason for the most common type of radiology error, the perceptual error, has many causes. It could be the result of radiologist alertness or fatigue, radiologist workload, or external distractions, as well as how conspicuous the abnormality actually is. For example, as a radiologist working a regular day and on call in the evening, I may be working for up to 24 consecutive hours and in some cases even into the next day. It is recognized that alertness decreases and fatigue rises with increasing hours of work. Many radiologists, like me, also work in very busy imaging departments, where numerous in-person or telephone interruptions from technologists, clinicians and secretarial staff may hinder concentration. Other systemic factors giving rise to radiology errors might be that the wrong test was ordered, the wrong test was performed, or that insufficient clinical information was provided about the patient's medical history to allow a correct interpretation.
Since the causes of radiology error are often multifactorial, a comprehensive error reduction strategy is required. Two important components of such a strategy would include radiology peer review and structured radiology reporting systems.