JCCC 2017 Issue 2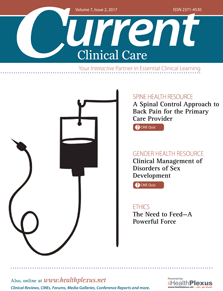 Table of Contents

MD
Disorders of sex development (DSD) is an umbrella term for congenital conditions in which anatomic, gonadal, or chromosomal sex is atypical.


MD, FRCSC
Impaired neuromuscular control of the spine is widely recognized as an important factor in the development of low back pain (LBP).


MD, MSc, FRCPC, FACP, FRCPEdin
The mothers of all living species appear to have a biologically determined need to feed their young.