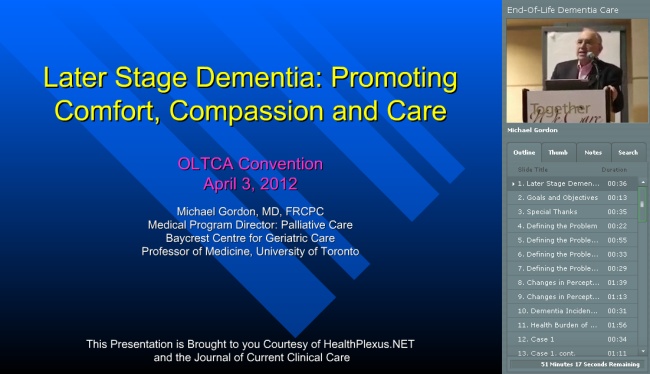 CPD: Later Stage Dementia: Promoting Comfort, Compassion and Care
| | |
| --- | --- |
| | Michael Gordon, MD, MSc, FRCPC, Medical Program Director, Baycrest Geriatric Health Care System; Professor of Medicine, University of Toronto, Toronto, ON. |
This evidence-based learning program has been developed for primary care physicians, educators, and other health professionals who care for the elderly patients.


This program runs in a sequence, and is accompanied by informative illustrations, and animations.
Best viewed with accompanying voice-over narration.
You may pause, rewind, or fast-forward at any point.
Slides with links to figures or tables will pause automatically to allow the user time to view the additional material.
When it comes to dementia much of the focus is related to diagnosis and treatment(s). A terminal phase is not always considered with conditions that cause dementia-but must be to properly plan care.

To address clinical and ethical challenges that face health care providers and families for this population and to provide health care providers with processes by which to address such ethical dilemmas.

Keywords: dementia, caregiving, end-of-life planning
| | |
| --- | --- |
| | This interactive online program meets the accreditation criteria of The College of Family Physicians of Canada. Members of College of Family Physicians of Canada may claim MAINPRO-M2 Credits for this unaccredited educational program. |
| | |
| --- | --- |
| | Views and opinions in this program are of the faculty and not necessarily endorsed by, or reflective of, those of the publisher or editors of Health Plexus. |
---